One of my favorite things to do is read a book with my brand new clients. Often these students are newly discovered dyslexics who have never had a teacher who knew how to help them. Here are my favorites picture books about dyslexia: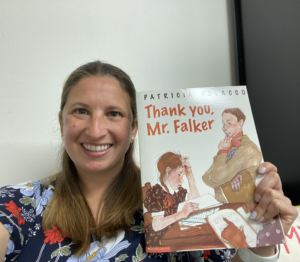 Book 1: "Thank you, Mr. Falker" by Patricia Polacco
Just last week I had a new kiddo who was sweet as could be, but just recently learned he had dyslexia in the 3rd grade. After our initial assessment we read Thank you, Mr. Falker by Patricia Polacco. It is my absolute favorite book for my clients! You can see the light in their eyes as they relate to the character in the story and by the end we find out it's about the author herself when she struggled to read as a child. Here are 4 more favorites.
Book 2: An A from Miss Keller by Patricia Polacco
What if writing is the student's greatest challenge? Well, that's when I pick An A from Miss Keller as my story of choice. This book is about how Patricia grew as a young writer. Be warned, this one has a really sad part, so be ready to talk to the youngster about that part too.
Book 3: My Mouth is a Volcano by Julia Cook
Now at first look you might think, this has nothing to do with dyslexia, why would she pick this one? Well, did you know there is a high incidence of dyslexic students also having ADHD? This book is one of the amazing creations of Julia Cook. She makes the most relatable social stories and the kids find them hysterical if you read it with the right level of expression in your voice. This book includes some strategies to use for interrupting and blurting out.
Book 4: It's Called Dyslexia by Jennifer Moore-Mallinos
This is a great one for young students who are just learning they have dyslexia. It talks about the parents meeting with teachers to discuss reading struggles and then having testing that reveals the little girl has dyslexia. This would be a good option for young students, under 10 years old, learning to understand their diagnosis of dyslexia.
**Note the cover images of books #4 and #5 have changed since I bought my copies of them**
Book 5: The Alphabet War by Diane Burton Robb
The illustrations alone are amazing! Illustrator Gail Piazza has a real talent for sketching! They convey the emotions of a child with dyslexia. The story takes you on a journey from sadness and frustration to one of hope as the child discovers his talents in life including science and sports.
Do you have any favorite dyslexia related picture books that I missed? If so, let me know in the comments.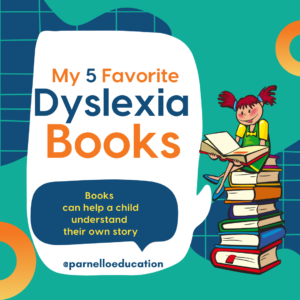 Note: this post contains affiliate links, which do not affect the price of the books if you choose to purchase them.