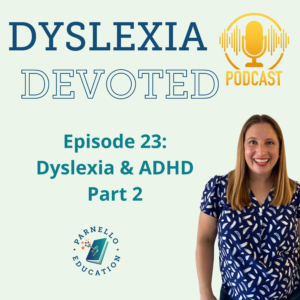 Want to Learn More About Dyslexia?
Do you want to learn more about dyslexia and how students with dyslexia learn how to read? Do you want to have a better understanding of special education terminology, the advantages of dyslexia, and how to help your child with dyslexia?
For a limited time,  you can sign up for lifetime access to my Understanding Dyslexia Online Course with a special 20% discount, just for my Dyslexia Devoted listeners. This course is only open to new participants from now until Thanksgiving 2022. Then I'm closing it down and preparing for my new course opening later this winter, so sign up today while it's still available using the link in the episode description and the promo code; PODCAST for 20% off.
In This Episode:
Dyslexia and ADHD often go hand in hand
Welcome to Episode 23 of Dyslexia Devoted and today we're going to be revisiting the topic of ADHD. It has been the most popular episode of this podcast, and this week some things came up with the kids so I'd like to focus this episode on the child perspective.
Today we're going to discuss talking to kids about ADHD, talking to your child's doctor about medications and med changes, and how ADHD affects girls differently.
Show notes: parnelloeducation.com/episode23
This Episode's ADHD Topics:
Talking to kids about their ADHD
Talking with doctors and collaborating as a team to help a child with ADHD
How ADHD can look different in girls
Connect with Lisa Parnello:
Follow on Instagram @ParnelloEducation
Resources Mentioned in this Episode:
Other Resources I Love: