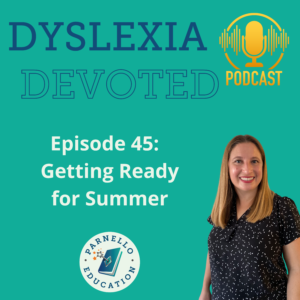 In This Episode:
Are you ready for summer? I know I sure am!
Welcome to Episode 45 of Dyslexia Devoted and today we're talking about getting ready for summer break!
Show notes: parnelloeducation.com/episode45
This is going to be a shortie episode because it's Easter when I'm recording this and only this weekend did I finally stop having covid, so my energy is still pretty low. 
But don't worry you actually get extra time with me this week because I was interviewed by two different people who have podcasts and both are ready for you right now. 
The first one that I recorded 2 weeks ago before I got sick and it will be live within hours of when I post today's episode. You can hear my interview with Ashley DiMercurio on The Reading Project podcast, and I'll link that in the show notes. 
The second was a live video stream for the Hot Topics! podcast that isn't live on the podcast apps yet, but you can already find the recording of our live conversation over on the Parnello Education Facebook page or in the Dyslexia Devoted Facebook group.
This Episode's Topics:
Make a plan for summer
Find out what they need to practice most
Find a tutor
Resources Mentioned in this Episode:
Connect with Lisa Parnello: