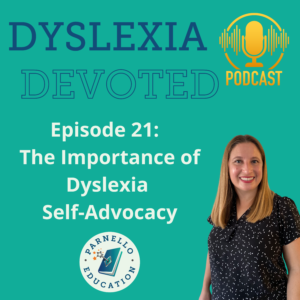 Want to Learn More About Dyslexia?
Do you want to learn more about dyslexia and how students with dyslexia learn how to read? Do you want to have a better understanding of special education terminology, the advantages of dyslexia, and how to help your child with dyslexia? 
For a limited time,  you can sign up for lifetime access to my Understanding Dyslexia Online Course with a special 20% discount, just for my Dyslexia Devoted listeners. This course is only open to new participants from now until Thanksgiving 2022. Then I'm closing it down and preparing for my new course opening later this winter, so sign up today while it's still available using the link in the episode description and the promo code; PODCAST for 20% off.
In This Episode:
Have you ever talked to a child with dyslexia about self-advocacy?
Welcome to Episode 21 and today we're focusing on why teaching children with dyslexia how to self-advocate is so essential. 
Strategies That DON'T Help with Dyslexia:
Why do kids with dyslexia need to self advocate?
What does it look like?
How to get started
Connect with Lisa Parnello:
Follow on Instagram @ParnelloEducation
Resources Mentioned in this Episode:
Other Resources I Love: