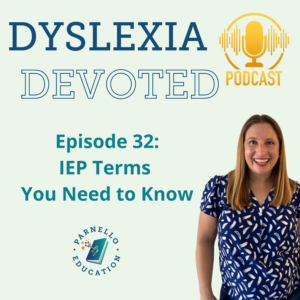 In This Episode:
Do you hear the special terms in education and IEP terms and suddenly think they are speaking a different language?
Welcome to Episode 32 of Dyslexia Devoted and today we're focusing on all the words and terms you need to know for your next IEP or educational evaluation meeting.
This week's episode comes with a free cheatsheet of these terms, so don't worry about writing them down. Just sit back and listen to them and download the cheatsheet at parnelloeducation.com/iepterms 
This episode is part of a month of learning I have in store for you. Be sure to tune in next week too, when you'll find out about my upcoming free webinars.
Show notes: parnelloeducation.com/episode32
This Episode's Topics:
Types of IEP Meetings
Essential IEP Terms You Need to Know
Various Learning Difference Terms
Connect with Lisa Parnello:
Follow on Instagram @ParnelloEducation
Resources Mentioned in this Episode: