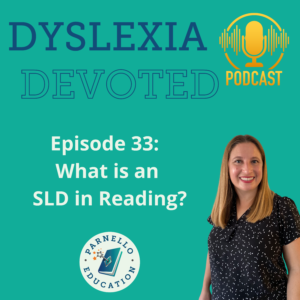 In This Episode:
Have you ever seen the term SLD in Reading on school paperwork and wondered what that means exactly?
Welcome to Episode 33 of Dyslexia Devoted and today we're focusing on a term you will hear far more often than dyslexia on an IEP or other school paperwork.
Show notes: parnelloeducation.com/episode33
This Episode's Topics:
Why do they say SLD in Reading instead of Dyslexia?
What is an SLD in Reading?
Why doesn't a child with dyslexia always qualify for an SLD in Reading?
Resources Mentioned in this Episode:
Connect with Lisa Parnello:
Follow on Instagram @ParnelloEducation