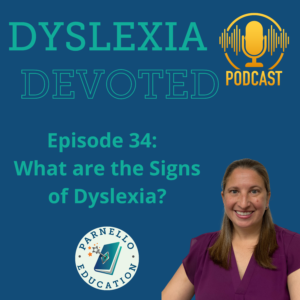 In This Episode:
Last week we talked about how some kids with dyslexia aren't always identified at school because they don't qualify for special education services.
Have you ever wondered what the signs of dyslexia are?
Welcome to Episode 34 of Dyslexia Devoted and today we're talking about the signs of dyslexia at different ages.
Show notes: parnelloeducation.com/episode34
FREE Masterclass: Parents' Guide to Dyslexia and Reading Troubles
parnelloeducation.com/masterclass
This Episode's Topics:
Signs of Dyslexia in Preschool and Kindergarten
Signs of Dyslexia in Early Elementary
Signs of Dyslexia in Upper Elementary and Middle School
Resources Mentioned in this Episode:
Connect with Lisa Parnello:
Follow on Instagram @ParnelloEducation