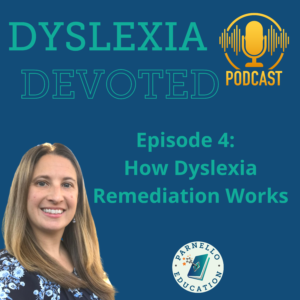 In This Episode:
How does dyslexia remediation work? In this episode, we give a brief overview of how dyslexia remediation and how students start working with a dyslexia specialist. The very first step is to break bad habits, especially guessing and a lack of confidence after prolonged failure in school. The most important part of remediation is building up a rapport with the dyslexia professional. The student needs to feel safe and feel they can trust their instructor. There needs to be safety in making mistakes, and knowing there will be support when it happens.
When the instruction begins, students learn how to identify sounds correctly. Often students say them improperly such as /BUH/ instead of /b/ or they mix up similar sounds such as /f/ and /th/ and need to see how the mouth formation is different. As they build their sound skills, students start to learn how to read one syllable words by breaking down the sounds. No matter how old the student is, we start with building a strong foundation. Often students with dyslexia were never taught how to properly sound out words. Then as they develop their skills, then the student learns new patterns to build upon.
As students learn new patterns for reading they are also learning the pattern for spelling simultaneously. By the time they finish learning to read, they have also vastly improved their spelling abilities as well.
Topics Discussed:
Undoing Bad Habits
Building a Foundation of Sounds and Reading Patterns
Applying Reading Patterns to Spelling
Connect with Lisa Parnello:
Follow on Instagram @ParnelloEducation
Resources Mentioned in this Episode:
Other Resources I Love:
https://podcasters.spotify.com/pod/show/dyslexiadevoted/episodes/Ep–78-Why-Im-Not-a-Professional-Advocate-e2cccfn In This Episode: Did you miss Black Friday Deals Week? Good news! It's back for Cyber Monday for one…