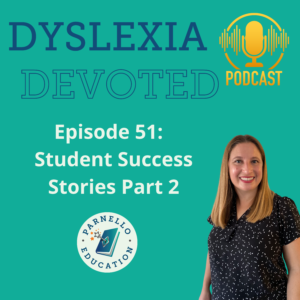 In This Episode:
Do you want to hear real dyslexia and learning difference success stories?
Welcome to Episode 51 of Dyslexia Devoted and today we're celebrating the small wins! If you listened to Episode 25, then you heard some long-term wins of clients I've had for years.
Today I'm sharing some wins that have been achieved by my clients this year. Sometimes when you're in the middle of it all, it's hard to see how far you've come when you haven't quite reached the finish line.
It was great chatting with some of you at the Q&A session this past Friday. If you missed it, I'll be posting the recording on my Facebook page this week.
As next week is the 52nd episode, that means it's been a full year since I started Dyslexia Devoted and our weekly episodes. I want to hear from you about what you'd like to hear in the next year of episodes.
Please visit Parnelloeducation.com/survey to complete the listener survey. As a special thank you, the first 10 people who complete the survey by Sunday, May 28th will be offered a $5 digital gift card of their choice.
Show notes: parnelloeducation.com/episode51
This Episode's Topics:
Listener Survey
Student Success Stories
Resources Mentioned in this Episode:
Connect with Lisa Parnello: