While February/March may not seem like the right time to find a summer tutor, it is! As families sign up for camps, vacations and other summer adventures, summer tutoring slots fill up too. The time to find your tutor is now!
Where do I find one?
Your school

Many teachers work as a tutor on the side

Local library

Often tutors post availability on bulletin boards (real or virtual ones)

Tutoring centers
Local parent groups

Ask other parents about their favorite tutor

Social Media

Search for tutors in your area through social groups or your friends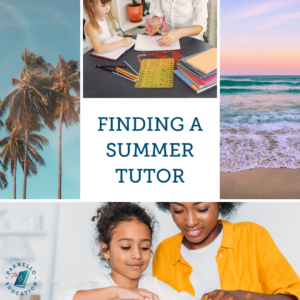 What if I need a specialized tutor?
There are many places to find tutors who work with students who have learning differences. Your best bet is to look for certified instructors that help specifically with learning differences.
Specialized Provider lists (Click name to access list):
Do you know of other provider directories? Send them my way, and I'll add to the list!