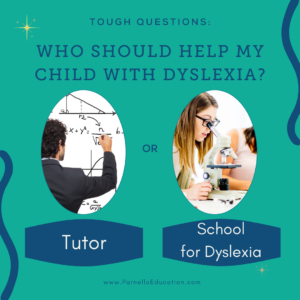 So your child has just been diagnosed with dyslexia, now what? One of the first questions is often, should I try tutoring or a school for made especially for students with dyslexia? Here are a few things to consider, because it really depends on your situation and your priorities. This post is filled with questions to help guide your thinking as you decide for yourself.
Location
This is a big factor. Are you able to drive to that school for dyslexia and make it to work on time? What time are drop-off and pick-up for students? Do those times conflict with the times for siblings to go to/from school? Talk to parents and see if carpool is an option to make things easier.
Cost
Specialized tutoring or education therapy for learning differences can be expensive. Have you compared the cost of 2-3 sessions a week to that of a school for dyslexia? Depending on your area, one may be much more expensive than the other. Often, the tutoring can be 1/2 the cost of school tuition, even if you do 3 sessions a week.
Availability
Which do you have access to right now? Sometimes successful schools have a waitlist. Take a school tour and ask if your child's grade has any availability. The same goes for successful tutors. They may have a waitlist or you may have to take sessions at non-preferred times. Sometimes the summer is a good time to sneak in the door to a full school or tutor. They often take extra kids for summer and those students can be the first offered a slot for the new school year.
Sports and Extra Curricular Activities
Does your child value the extra curricular activities at their current school? Would the specialized school offer something comparable? Could you replace school sports/activities with ones based out of your local community center instead?
Are they getting the services they need?
This can make all the difference. Some schools have great resources and educators trained in structured literacy that is proven to help students with dyslexia. Other schools use ineffective methods such as predictable books and leveled readers that are not organized by spelling patterns. Some situations, the student has dyslexia, but the district testing indicates they are not far enough behind to get services. It's important to know the type of instruction your student is receiving at their school.
Your Child's Self-esteem
This in itself can be the biggest deciding factor. If your child can't keep up and is becoming school avoidant, depressed or anxious, you may need to make the change sooner rather than later. If your child is happy, but a bit behind, maybe try tutoring first.
Decision Time
As you make your choice, remember that you can always adjust if it turns out you need to make a different choice. Just be sure to have a little patience. If your child is 2-4 years behind grade level, it is unlikely they will be caught up in just a few months. Even the most effect strategies take time, especially if your child has developed anxiety and avoids things that are challenging.
Good luck! Your child is lucky to have a parent who cares and wants the best for them.