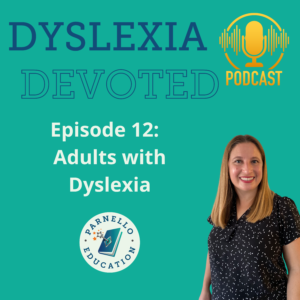 In This Episode:
Dyslexia isn't something people grow out of; it's a lifelong difference in how someone thinks. It can be a great asset, but it can also come with challenges. In this episode we talk about some resources for adults to use as accommodations in their job, career paths that dyslexic thinking tends to thrive, and other topics relating to adults with dyslexia.
Here are just a few great careers for adult dyslexics:
Artist: illustrator, design, sculter, etc.
Writer
Trades: electrician, woodworker, mechanic
Entrepreneur, Business
Teacher
Topics Discussed:
Remediated or Not?

Dyslexia in the Working World
The Jobs They Perform
Connect with Lisa Parnello:
Follow on Instagram @ParnelloEducation
Resources Mentioned in this Episode:
Other Resources I Love:
0:08
Hello and welcome to Dyslexia Devoted the podcast dedicated to building awareness, understanding and strategies to help those with dyslexia. I'm your host Lisa Parnello, dyslexia therapist and founder of Parnello education services. This show features information stories, candid interviews and experiences with dyslexia at all ages. Join me as we dive into today's episode of dyslexia debate.
0:36
Hey friends, welcome back. What happens to adults who have dyslexia? Welcome to Episode 12 of dyslexia devoted where we will be discussing dyslexia in adulthood. both the good and unfortunately the bad. This episode is going to have a lot of different links that I'm referring to. So make sure you check out the show notes at Parnello education.com forward slash episode 12. So that way, you can check out some of the cool things I mentioned in today's episode. In this episode, I'm gonna be telling some stories that aren't my own. But I'd really like to hear your stories about being an adult with dyslexia. Reach out to me on Facebook, including our new dyslexia devoted Facebook group, or Instagram at Parnello education and tell me what life is like for you or an adult that you know with dyslexia. Remember, you can send me a DM it doesn't have to be a public message for the whole world to see, I just want to learn a little bit more about the experiences of adults who have dyslexia. Let's get started with our episode today. Did the adult with dyslexia get help when they were younger? Because the answer to that question can make all the difference in the world as to how their life turns out. Most of today's episode is going to be filled with resources and all the good stuff. But let's start with the bad about what happens if somebody doesn't get the help that they need to do you know, a large portion of the people in prisons are not fluent readers. In fact, a vast majority can't read over the fourth grade level. They actually use reading scores to help determine the size of prisons in a decade or two. Because people who can't read and can't feel success in life often turn to crime and other resources to try to get their needs met. And just to survive, when you can't get a job and you can't read trying to do traditional education and you can't graduate because you aren't getting the help you need. It can take a really sad path. That's actually part of the First Step Act that was passed in 2018 so that federal prisons were now required to screen for dyslexia, and provide remediation and support so that inmates can actually get their GED and turn to a better life, I actually had the privilege of working with a child of a federal judge as that act was getting passed. And it was so great to see the power and support behind it to try to make the world a better place. For people with dyslexia. People who didn't have the resources to get the help that they needed when they were younger. Even though they did get themselves into a bit of trouble. Maybe they can make a better choice when they get out. It doesn't have to be all bad news. People with dyslexia can become very successful, they can get there by taking many different paths. I know one friend who went to a special school for dyslexia when she was younger. Now she actually teaches kids with dyslexia. And I know another one whose mom actually learned how to teach kids with dyslexia. And her own mom taught her how to read because the school wasn't able to help her. There are many different paths that people can take to get the help that they need, so that they can become successful adults. So if you want to make sure that someone that you know can become a successful adult, check out the local Ida branch or the reading league in your area, and see what resources are available to people in your community. One story that I have fallen in love with this past year is on the TV show called The Craftsman which by the way, I'm not getting any paid advertising for this. I just really fell in love with it. It is all about an older gentleman who's in his 70s or 80s, who is a an amazing craftsman who restores old Victorian houses up in Eureka, California, he still can't read to this day, because back then a lot of times they just told people they were dumb, and they moved on. He never learned to read. But instead, he's really good with his hands. And he learned to become an amazing woodworker being able to watch his story and what kind of accomplishments he's been able to achieve has been pretty fantastic. And there's even an episode about how he goes and mentors, kids who are struggling in school and shows them what you can do with a trade. So we'll talk a little bit more about trades later on in today's episode too. Now let's talk about dyslexia in the working world. One of the biggest topics I've heard from friends who are adults with dyslexia is the decision whether to tell people or not, and many didn't tell anybody, some of which I only know because we actually worked at a school for dyslexia, and they felt more comfortable than they ever had in other jobs before. There was actually one colleague who said they've never told any employer ever they had a learning difference until they got to the school that we were working at, because they finally felt safe and comfortable. It's a tough decisions because it would be really helpful. People knew that you learn differently, but at the same time, people get worried about how they're going to react or that they're going to be judged that they're not smart enough. That decision has to come down to that person and the environment they're in and how much support they think that they will get
5:00
By telling people will it lead to the greater good. And while we wish that everyone could get the support they needed no matter where they are, that's not always the way the world works. So each person has to choose what's right for them. The good news is, companies are starting to realize that there are strengths to dyslexia. And if you haven't listened to it yet, go check out Episode 11, where we talked about how it's a recognised skill to be a dyslexic thinker now on LinkedIn, because people are realizing how many successful adults there are, who are out of the box thinkers that are amazingly successful, that you can actually show some dyslexic pride on your LinkedIn page, and use that as a skill to show all of the amazing features of having dyslexia, and how your brain working differently can be a really great thing in the business world. Now, each business is different. But I made a list of some accommodations that can work great for adults. One is a trusted friend or colleague that can proofread. So this was a strategy we used for many years with some of my colleagues, where it wasn't any sort of judgment thing was like, hey, read this real quick before I send it out. And it was a quick little thing, and it made everybody's life easier, because you made sure that there was no social snafus, but also checking for typos. And sometimes a word that sounded similar but meant something completely different. Just because of the way the spelling was. And being able to help each other proofread actually solved a lot of problems and prevented a lot of problems. Because helping each other out and taking away the stigma of proofreading for each other can make it so that communication is more clear and concise. It's not just about fixing the spelling errors that might happen if somebody is dyslexic. It's about reading each other's work over and being supportive to make sure that communications to the outside world come across the way you mean for them to. Because in the digital age, a lot of times we're doing emails and text messages and communications don't always come across the way we wish they would. And so by making it just part of the norms, that people don't mind giving each other a quick glance over before important documents go out whether that's a business proposal, or an email or a letter to the community or a letter to the team members of a company, it's really important that maybe giving that second look and making it just part of the norm, that people double check things and not in any sort of judgmental way, but in a supportive way to make it a supportive part of company culture to make sure that people are communicating clearly, and the message is coming across and not in any sort of judgy way, the next sets of accommodations are more digital. And I also realize that it might depend on what company you work at. Some of our more confidential companies around here that are inventing tech probably wouldn't allow some of these on work computers. But if you are at work at the kind of job that you're on your own or small business owner, or you're not in any company that has any top secret kind of confidential trades that you're doing, these can come in really handy for an adult to be able to do their job and do it well. So one is Grammarly, and that is one that I use all the time. Because it helps me make sure that my email communications come across the way I mean for them to when I was working at the school, I had a big team of educators that I was working with that I can often be like, hey, read this over before I hit send. And now that I'm a business owner on my own, a lot of times it's just me hanging around the office. And so we want to make sure that what I say comes across the way I mean for it to and Grammarly really helps with that. And especially catches sentences that don't make sense when I get overly tired at the end of the day after working with a bunch of kids.
8:21
Another one is otter.ai. And that's one that's great for taking notes. And it can actually plug in while you're running a zoom call. So it can actually take notes for you. So you can pay attention more to the conversation and less on how you're taking notes. And you can do all sorts of different things with otter, and it can be a collaborative thing, or it can take the notes for the whole group. It doesn't have to be this, you know, secret thing you're doing on the back end. It can be something that helps everybody so that everybody can focus on the conversation. And you don't have to have a note taker for a meeting, when you're doing some big important brainstorming. There's great ideas that you don't want to forget. Another one that I know some of my students really like is speechify. And that's text to speech. And that's a really great one because it can read all sorts of different documents, there's a Chrome extension, and I believe there's also an app. And there's a lot of different ways that you can utilize speechify to turn text to speech, because even when people with dyslexia get remediation, sometimes they still take a lot longer to read, even if they can read and they can read well, they're not necessarily the fastest readers. So speechify can take away some of the stress of reading and also just make time go by a little faster. Because it's easy to get sucked into something take a really long time to read it. But if you get just as much information by listening to it, and you can get it done twice as fast when that make more sense. Let's end this episode with a good stuff, which is the amazing jobs that people with dyslexia often do well in as adults. So I realize not everybody becomes somebody super famous. But these are just some directions that often people do really well in creative types such as artists, and that can be painters or sculptors or illustrators. And there's many different ways that people can be successful as artists. Then there's writers because
10:00
You might be thinking wait a minute people dyslexia terrible spellers, how can you make it be a writer, but the thing is, they make editors. And we live in amazing time where technology can do a lot for spell checking, you can actually talk into a computer and have it write it all out for you. So if you are the kind of person that can tell a really great story, writing might be for you. We have so many resources available to us in this day and age that were not available 20 3040 years ago, that now people who couldn't do something before might be able to do it now, thanks to the wonderful direction that assistive technology has taken in our world today. Another path for adults with dyslexia is entrepreneurship. Many start businesses and have creative ideas and become the CEOs of companies or the founders of companies and think of really amazing solutions to the problems of our world today. That creative thinking can really help them to run in new directions and create innovative businesses that help the world become a better place. Another direction that I think is not encouraged enough these days is tradespeople. A lot of times people with dyslexia can be really great with their hands. They may not be very good with a pen, but they can be amazing at doing all sorts of other things. So thinking about becoming mechanics and electricians and woodworkers, one of the really important things that people don't think about is the way that you pay for your education in America, student loans have become out of control. And it reached a point where you can pay so much for your education that it doesn't matter that you make more at your job, because if most of your salary has to go back to paying your student loans, you aren't really living off of that much money by the end of the day. And people don't think about the fact that a lot of the trades, people actually work with apprenticeships, so they actually work out better financially as a student than sometimes people who went to college, if you can get a job that can make $100,000 a year, because you were an apprentice, and you don't have any student loans by the time that you were done. That can make a big financial difference on your life. And it can be a really successful job. And some of the union jobs have a lot of security for the people who work in the trades, and they're able to get jobs across the country. I have a cousin who moves across the country every time there's a really great electrician job. And it was one of the ways that he felt really successful is that he can go work anywhere and go check out different parts of the country, as he does some of his electrical work. So don't forget to suggest working in the trades as one of the possible solutions for somebody who maybe didn't do great in school, because they can learn other great skills that are necessary in our society. We need people who can work on our cars, we need people who can make our electricity work. We need people who can build houses and work with wood and build furniture. Let's not undervalue some of those trades that sometimes people might think of as blue collar jobs. But if you are really amazing at it, I know that I certainly will not touch anything electrical in my house, I will make somebody else do that. So I don't burn my house down, we need to make sure that we let students know that that's a really viable option, and they can make a great career out of it. Lastly, let's not forget, teachers, teachers can make a big difference. And having a teacher who's been through the struggle of dyslexia means that you have a teacher who knows how to help you who's been there who can relate to you. And so a lot of times people with dyslexia can actually turn into pretty amazing teachers, because they have those social emotional skills. They have the ability to connect with students who face similar challenges to them, and they know what it feels like and how to help because they've been there. Alright, let's recap what we talked about in today's episode. Getting remediation and finding the right job can make all the difference in the world for an adult with dyslexia. There are many careers that can be amazing for people with dyslexia, especially those that require creativity using your hands and relating to people who have learning differences. We also talked about some of the technology resources that exist today that didn't exist many years ago, that can help people in business be a lot more successful, because they have resources to help them with their reading or their spelling. In order to do their jobs more effectively. The world is becoming a more accepting place for people with learning differences. And getting rid of the stigma of learning differently is our next step. We're making baby steps, such as the LinkedIn job skill of bragging about your dyslexic thinking abilities. But there's still a long way to go to make the world a more accepting place of neurodiverse people. Alright, that's it for today. If you're an adult with dyslexia, tell me your story. I'd love to hear it. You can do it in the new dyslexia. devote a Facebook group as an option or send me an email at lisa@[email protected]. Thanks for listening today. I'll see you next week.
14:31
Thanks for listening to today's episode of Dyslexia Devoted. Join us for our next episode by subscribing to this podcast as we devote each episode to different aspects of dyslexia. See you next time.
Transcribed by https://otter.ai