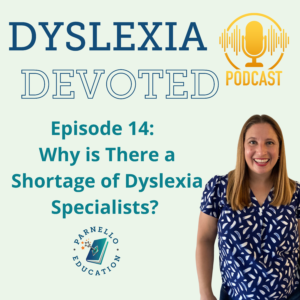 In This Episode:
In most areas, there is a shortage of certified dyslexia specialists. So what causes this? There are many things stopping teachers from becoming dyslexia experts including lack of knowledge that it exists, financial barriers, and hindrances on their time to work with students as they complete practicum requirements.
Topics Discussed:
What stops teachers from becoming dyslexia specialists?
What are some of the barriers for teachers who want to becoming certified?
What you can do to help teachers in your area.
Connect with Lisa Parnello:
Follow on Instagram @ParnelloEducation
Resources Mentioned in this Episode: