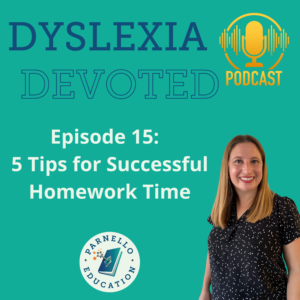 In This Episode:
School is starting to get into the swing of things, and kids are starting to come home with more homework. Many families find it to be a battle to get homework done, especially for students who struggle with dyslexia.
Welcome to Episode 15 of Dyslexia Devoted where I will give you some tips and strategies to make homework time less stressful.
5 Tips for Successful Homework Time:
Set up a proper learning space!
Schedule a specific time for homework each day
Break down assignments and include breaks in the middle of work time
Use accommodations!
Reward hard work!
Connect with Lisa Parnello:
Follow on Instagram @ParnelloEducation
Resources Mentioned in this Episode: