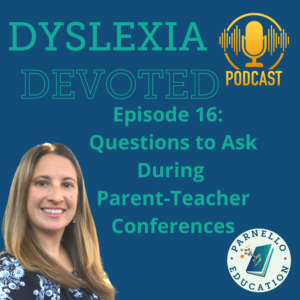 In This Episode:
Most schools have beginning of the year parent-teacher conferences. It's important to set the tone for the year to make sure dyslexic students have a solid team of support.
Welcome to Episode 16 of Dyslexia Devoted where I will guide you on some key topics you may want to discuss in your first parent-teacher conference of the year!
DOWNLOAD YOUR FREE CONVERSATION GUIDE HERE!
5 Key Conversation Topics:
Make sure the teacher knows the child has dyslexia
Ask about accommodations
Ask what is most challenging at school and what you can do to support them
Ask about their areas of strength at school
End with a plan for teamwork!
Connect with Lisa Parnello:
Follow on Instagram @ParnelloEducation
Resources Mentioned in this Episode: