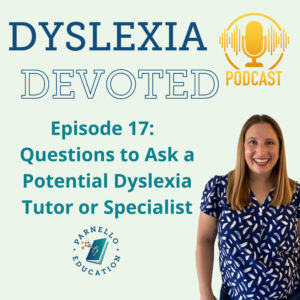 In This Episode:
As a parent, a dyslexia diagnosis for your child can seem overwhelming. You want to help but you don't even know where to begin to get the help you need
Welcome to Episode 17 of Dyslexia Devoted where I'll give you a starting place for some questions you may want to ask a potential dyslexia tutor or specialist.
As an added bonus, I created a FREE PDF guide you can download to help you plan your questions with a potential dyslexia specialist or tutor.
Topics Discussed:
Experience
Dyslexia Training and Certification
Nitty Gritty Details
Progress Check In Plan
Connect with Lisa Parnello:
Follow on Instagram @ParnelloEducation
Resources Mentioned in this Episode: