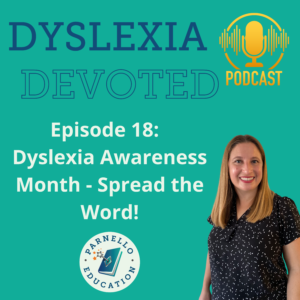 In This Episode:
October is dyslexia awareness month! It's time to spread the word about dyslexia and what it really means to be dyslexic. In this week's episode I share my journey to discovering the methods that work for dyslexia.
I also jump into some ways you can learn more about dyslexia and expand your knowledge as well as spread the word about dyslexia.
Topics Discussed:
My Journey of Discovering Dyslexia - not understanding to becoming a specialist
Grow Your Knowledge
Spread the Word During Dyslexia Awareness Month!
Connect with Lisa Parnello:
Follow on Instagram @ParnelloEducation
Resources Mentioned in this Episode:
Other Resources I Love: