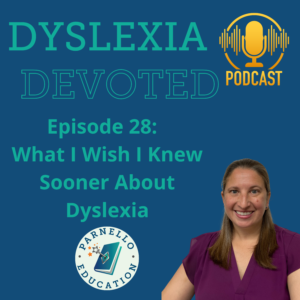 In This Episode:
What is one thing about dyslexia that you wish you knew sooner?
Welcome to episode 28 of Dyslexia Devoted! Recently I posted a message in a local dyslexia group asking that exact question… What is one thing about dyslexia you wish you knew sooner? And I got some great answers that I wanted to share with you, because knowledge is power!
Now before we get into the answers to those questions, including my own. I have a special announcement to make!
I'm getting ready to launch a brand-new course to help families that have recently received a dyslexia diagnosis for their child.
It's called Discovering Dyslexia: A Parents Roadmap to Navigating the First Year
It's all about understanding the assessments, the basics of IEP meetings, programs that work for kids with dyslexia, and various educational options you have to help your child.
And I have a special opportunity for 10 of you.
In exchange for giving me some feedback on some of the items I plan to put in the course, you get a special 50% discount. For only $99 you get a $197 course when I'm done putting the finishing touches on it.
I'll be sending a couple of "this or that" kind of questions, that will take you 5 mins or less to answer.
In return, you'll get a big discount on the course and access to all the content and bonus material when it goes live on February 12th.
There are only 10 spots available for this opportunity and it closes on Saturday, December 17th, 2022.
Find the link on the description where you're listening to this episode or go to the courses tab on the ParnelloEducation.com website to learn more.
Show notes: parnelloeducation.com/episode28
This Episode's Topics:
A Special offer on my *NEW* course Discovering Dyslexia: A Parent's Roadmap to Navigating the First Year
Hear what parents and educators wish they knew sooner about dyslexia.
Connect with Lisa Parnello:
Follow on Instagram @ParnelloEducation
Resources Mentioned in this Episode: