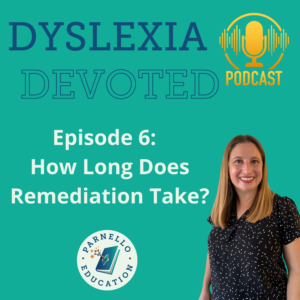 In This Episode:
How long does dyslexia remediation take? In this episode, we discuss the various factors that impact the duration of time needed to remediate dyslexia to help a student be a fluent reader and speller. If you want to learn more, check out my online course about dyslexia and remediation.
Is the student getting instruction in a group or individually? Individual instruction is always faster, but it isn't always a feasible option.
How often is the student receiving instruction? The more frequent they are receiving services, the faster they will make progress.
What level of training does the teacher have? A teacher who is fully certified or receiving instructional coaching will be much more proficient at teaching a student with dyslexia than a teacher who has only had a brief introductory class.
Topics Discussed:
Factors to Consider
How Remediation is Provided
Who is Providing Reading Remediation
Connect with Lisa Parnello:
Follow on Instagram @ParnelloEducation
Resources Mentioned in this Episode:
Other Resources I Love: