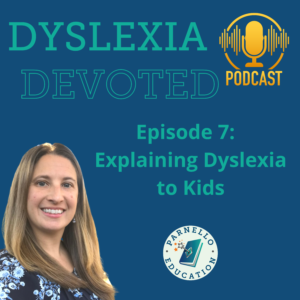 In This Episode:
How do you talk about dyslexia with kids? We dive into the reason why you should tell a child they have dyslexia. We want to empower students to name their challenge so they can make a plan to overcome it.
We also discuss how you can help a student to not feel like they are the only one with dyslexia. Connect with other families of dyslexic children so the child knows there are more kids like them.
Inspire the dyslexic student by showing them people and characters who are dyslexic and successful. Give them something to aspire to! This episode is full of inspiring books with dyslexic characters (links below).
Topics Discussed:
Why tell a child they have dyslexia?
How should you have the conversation?
Famous people and book characters with dyslexia
Connect with Lisa Parnello:
Follow on Instagram @ParnelloEducation
Resources Mentioned in this Episode:
Dyslexia and LD Support
Note: This post contains some affiliate links, but does not affect your price if you purchase.
Dyslexic Book Characters
Patricia Polacco

Henry Winkler - Happy Days Actor & Author

Lynda Mullaly Hunt