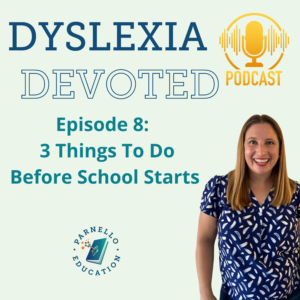 In This Episode:
What can you do as a parent to help a child with dyslexia have a better start to the school year? In this episode, we cover 3 things you can do to ensure a smoother start to the school year.
One thing you can do is to prepare them to get started on academics again. Have them use academic skills in fun ways such as reading a book they get to choose, play games that involve math, and write journal entries about their favorite summer adventures.
Next, prepare the routines, especially getting ready in the morning. The start of the school day sets the tone for the whole day. Start practicing the morning routine, and most especially getting up a little earlier each morning instead of getting up much earlier on the first day of school than they have all summer long.
Last, but certainly not least, make sure the teacher knows your child has dyslexia. They may not have gotten the message, even if they were supposed to. Teachers also don't always realize how many parts of the school day that dyslexia can affect. It's far more than just reading class.
Topics Discussed:
Prepare your child
Prepare your routines
Talk to the teachers
Connect with Lisa Parnello:
Follow on Instagram @ParnelloEducation
Resources Mentioned in this Episode:
Other Resources I Love: